A proof of concept (POC) is taking the theory behind your product and testing its feasibility. This process allows us to turn brilliant ideas into something practical.
Why is proof of concept important?
A proof of concept is essential if a project is to be successful. It is how you prove to others (and yourself!) that your project will do what you want it to do. Our job is to analyse and test out your idea. We can identify any pain points and critical requirements that need addressing before the project moves forward.
What do we mean by pain points? These are critical risks to the project's development. For example, it could be that we are dealing with something where the technology doesn't exist yet, or something that we don't know how to do (yet). By identifying what we know the least about, we will know what needs tackling first.
It is crucial to highlight that a POC is not a finished product. Instead, it is a study into its feasibility that takes place in a low-risk environment. Our job is to identify if your project is good to go before you commit to investing a significant amount of time and money.
Why DefProc?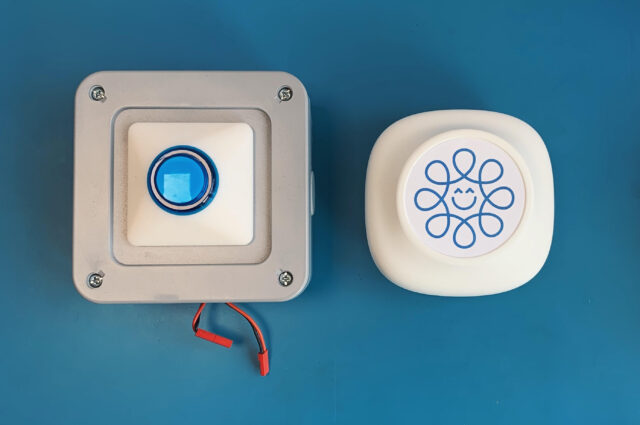 The years of experience behind DefProc means that our thinkers and creators can explore the wildest of ideas. All of the projects we have worked on have involved creating or developing something fundamentally new. Our experiences have also allowed us to discover what directions haven't worked in the past, giving us an advantage when it comes to your proof of concept.
One of our ongoing projects, Push to Talk, has been taken from POC to prototype [pictured]. On the left is the initial Push to Talk POC. Aesthetically, it is relatively simple. However, it is just as functional as the prototype on the right. The simplicity of a POC means that it is not time-consuming to make, it is low-cost, and it provides us with all the answers we need. After proving that the idea was workable, we could then create a more developed prototype.
Who do we work with?
We work with both smaller and larger organisations. For creators, artists, designers, and small businesses, we often step in to provide the 'technical' knowledge. Our expertise allows us to support those who want to take their first step towards creating something extraordinary. By providing a proof of concept, we help artists, entrepreneurs and creators show off something physical that they know works, putting them in a position to take the next step in their project.
For larger organisations, we can take on the role of creating specific solutions for their service or project.  We can also step in as an ad-hoc research and development team, offering our knowledge and technical expertise to support a POC.
Are you ready to test your idea?
If you have an idea waiting to be turned into a reality, get in touch with us at contact@defproc.co.uk.
You can also read about another proof of concept we have worked on here!
Make sure to follow DefProc on Twitter and Instagram, and connect with Jen and Patrick on LinkedIn.
We can't wait to hear from you!