With the COVID-19 pandemic bringing another lockdown for Liverpool, a lot of local businesses are having to adapt to new challenges. A lot of us are fatigued by now and are thinking – When is this going to end? How can businesses bounce back?
The good news is, DefProc and a host of other innovative thinkers have been strategising how we can pivot and thrive throughout COVID-19 and beyond. We held our 'Build Back Different' event on the 15th of October so that we could hear from some amazing speakers on how they are using technology and innovation to create newly imagined ways of living and working. 
Without further ado, let's dive into what we learned about building back different.
Gary Banks, CEO of Arup Liverpool
Our keynote speaker was Gary Banks, CEO of Arup Liverpool. Gary told us how Arup – a firm of designers, engineers, consultants, technical specialists and architects – is using innovation to push the boundaries of what's possible.
Gary talked about Arup's journey as a company and how its Founder, Ove Arup, believed that everything the company does must have a socially positive impact.
After receiving a birthday card that joked about COVID-19, Gary reflected on the deeper meaning behind the message. He thought about how we live and deliver our work has shifted recently, resulting in us having a new set of boundary conditions for how we design solutions. Gary expressed that the disruption caused by COVID-19 is an opportunity to test and trial new ways of doing things.
He went on to explore what Liverpool can do to help its businesses. Exploring a new relationship between technology and community will allow us to stimulate the innovation economy, which is a key pillar in the city's economic recovery plan.
"There's a real opportunity for us to explore a new relationship between technology and community." – Gary Banks, Arup Liverpool
Jen Fenner and Patrick Fenner, Founders of DefProc
Our Founders Jen (MD) and Patrick (Head of Engineering) spoke about what we do at DefProc and our mission to work on Tech For Good projects that provide social value. Jen explained our services and how we can act as an innovation team for other organisations.
From our very first project, the Atomic Duck, to working with the Science and Media Museum, Patrick went on to explore DefProc's passion for working on a wide variety of projects and understanding new technologies.
"The challenges that our clients give us often need research on how to use new technology and how to apply it in the way the client wants…It's interesting, it's like a puzzle and it's why we do what we do." – Patrick Fenner, Head of Engineering – DefProc
Jen also discussed how Liverpool could build back different, bringing up the idea of smart cities and the purpose behind data collection.
Valerie Bounds – Head of Design, Uniform
We then moved on to our panel discussion where Valerie Bounds, Head of Design at Uniform, discussed how we can find new opportunities for Liverpool during COVID-19 using new models. Valerie explored how the pandemic has brought a rapid shift of new technologies as well as social and behavioural changes that have resulted in people's willingness to use them. She explained how we could unlock a whole new level of creativity through collaborating with other cities around the world.
"Technology has been the lifeline of our community through lockdown" – Valerie Bounds, Uniform
Michelle Charters, CEO of Kuumba Imani
Next up, we heard from Michelle Charters, CEO of Kuumba Imani, on the importance of developing partnership models between all sectors in Liverpool. Michelle explained how the voluntary sector shouldn't be excluded when it comes to figuring out how Liverpool can build back different – 'If you exclude the voluntary sector, you exclude the residents in those areas'. She told us how uniting the private, public and voluntary sector will result in positive change for the city.
"We need to recognise everyone's contribution that's going to be needed to make this change." – Michelle, Kuumba Imani 
Connor Di Leo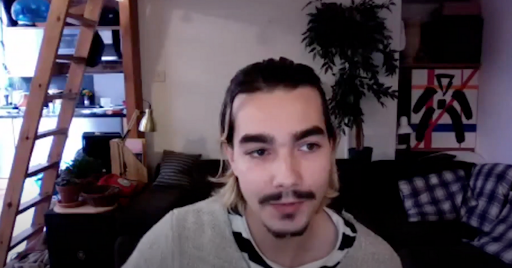 Connor Di Leo brought up some interesting points on the problem with information delivery and how we all need to have access to and understand what is going on within our city. Connor discussed how Liverpool has the potential to come up with a digital culture, like a community model, that can inspire other cities.
"I know when someone famous does something dumb, but I don't know what's happening in my city." – Connor Di Leo
Watch the full discussion
Help us to build the future
We want to thank all of our panel speakers for such an interesting discussion. We're excited to see how Liverpool continues to shift and adapt to the pandemic.
If you want to have a direct impact on how we can create more connected communities in Liverpool and beyond, learn more about our Push To Talk project.
Make sure to follow DefProc on Twitter and connect with Jen and Patrick on LinkedIn.