The Things Conference is the world's largest conference for all things LoRaWAN. Held annually in Amsterdam, the event consists of keynotes, interactive workshops and demonstrations that showcase the latest developments in the industry. DefProc's co-founder, Patrick Fenner, returned to the conference this year to present a keynote on how we're using LoRaWAN to aid the rollout of domestic hydrogen for our latest collaboration with Northern Gas Networks.
Kicking off the Conference
Day one opened with an introduction by Wienke Giezeman, CEO at The Things Industries and Johan Stokking, CTO at The Things Industries. They made several announcements about the advancements in LoRaWAN, including:
The Things Stack (a LoRaWAN network server) currently has 1.5 million devices connected to it.

Over 2.5 billion messages have been sent and received via The Things Stack.

The current cost of ownership per device over its lifecycle is around $300.

Current developments, including energy harvesting, are seeing the average battery life of 3 years increase to 10 years.

New support for LoRaWAN Relay.

EchoStar Mobile is collaborating with The Things Network to integrate their satellite IoT capabilities into The Things Stack.
Patrick's Keynote
Watch Patrick's keynote as he takes you through the background of our latest project with Nothern Gas Networks, its impact on the energy industry and consumers, and how LoRaWAN will be used on the device.
LoRaWAN Satellite and Relay Options
For many people who work with IoT technology, the news about LoRaWAN Relay and satellite integrations has been highly anticipated. The collaboration between The Things Network and EchoStar Mobile will allow businesses across Europe to connect IoT devices for real-time, two-way communications over satellite or terrestrial networks using a dual-transport, generic node. This is a significant development as it will allow for seamless coverage for devices, even those in remote locations. LPWAN industry leaders and LoRa Alliance members Semtech, Arad, Deviceroy and Acility have also broken new ground with successful implementations of relay to LoRaWAN devices. This allows for LoRaWAN connectivity to reach isolated or hard-to-reach locations (such as underground) by using battery-operated relay nodes between the gateway and the IoT device. This is an exciting development as it provides a whole new range of coverage options for projects.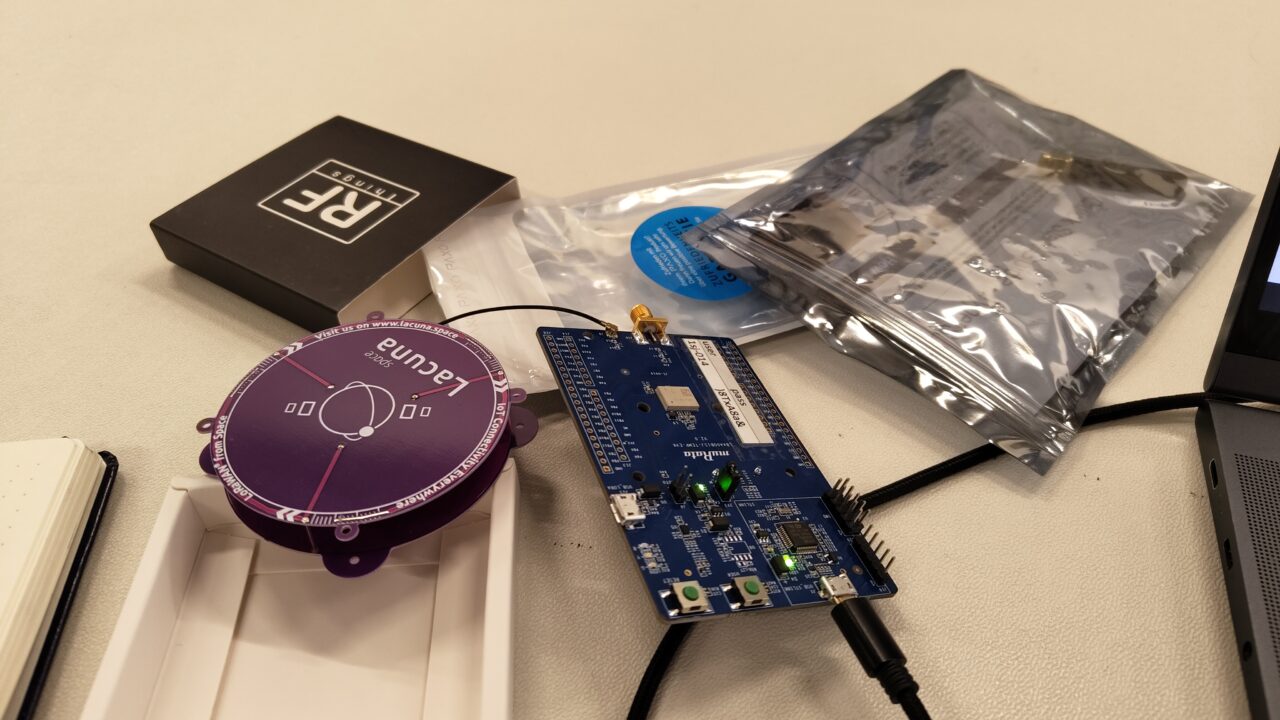 We also heard from Jon Pearce at Lacuna Space, who explained how to add satellite coverage to existing LoRaWAN networks to create global coverage, even in extremely remote locations. With a maximum 24-hour latency, there are several valuable use cases for this type of connectivity. This could include monitoring soil conditions to concrete footings on wind farms that do not require immediate responses to changes. At the time of the conference, IoT Stars partner Laurens Slats was crossing South America on his bike fitted with a GPS tracker, passing data via the Lacuna satellites to track his progress. This was a brilliant way of showcasing the extent of Lacuna's global coverage capabilities.
LoRa Ranging for Recovery Applications
On Friday, there was an opportunity to witness a live demonstration of a rescue operation using LoRa ranging by API-k. Nicolas Sornin showcased the recovery system that API-k has developed using the ranging functionalities of the latest LoRa chipsets. Their unique communication service, FIND-R, overcomes network dead zones. This development is vital for rescue teams working in areas like the French Alps where a quick response is critical. The search device works offline and off-grid and has a range of up to 12km from the air. This allows helicopters to rescue people in minutes rather than days, even in challenging conditions.
Protecting the Environment
We also heard from Suat Batuhan Esirger on how ForestGuard is utilising S-Band satellite for the early detection of wildfires. Earlier this year, an earthquake devastated Turkey, causing disruptions in Global System for Mobile Communications (GSM) services. However, using S-Band satellite communication allows the sensors to remain operational during disasters where GSM infrastructure collapses.
The sensor modules attach on tree trunks, with one module covering 16 hectares of forested area. The devices have integrated Li-Ion Super Capacitors with solar panels, providing a safe source of power. Most importantly, the modules use sensors that measure gas levels, temperature, humidity and air pressure. Upon detecting the conditions for a fire, the sensor modules transmit the data via satellite to their servers. The server verifies the conditions and notifies authorities to take action, reducing the reaction time to under 15 minutes.
ForestGuard is looking to expand its sensor modules for other applications, such as earthquakes and floods.
Ambient Light Harvesting with Dracula Technologies
Roelof Koopmans showcased how Dracula Technologies' Organic Photo Voltaic (OPV) works, how much energy can be created in different indoor light conditions and how the harvester modules can be integrated with IoT sensors. These digitally printed solar panels offer a low-level continuous energy input, with a lifespan of seven years in an outdoor environment and 10 years indoors. Their ability to be printed into complex shapes allows them to be easily integrated into sensors, smart meters and other electrical devices. Starting at €30 per unit singles, reducing to €2 each in bulk orders, these modules offer a sustainable, low-cost solution for powering devices.
Conclusion
The Things Conference 2023 closed with over 1000 visitors and 75 partners attending the event. There was much more focus on mature devices this year, highlighting the extensive and innovative developments in the LoRa industry. Next year, the The Things Conference will take place on the 25th-26th of September. We can't wait!
In the meantime, catch up with all the latest DefProc news here.