The 22nd – 23rd of September saw the return of The Things Conference in Amsterdam. If you're interested in LoRaWAN, The Things Conference is essential to add to the calendar. Held over two days, visitors can attend workshops and keynotes focused on LoRaWAN use cases and network with industry experts and professionals. This year, our co-founder Patrick was invited to the conference, organised by The Things Industries, to give a keynote on how to use LoRaWAN to monitor office air quality.
DefProc at The Things Conference
One of the challenging aspects of creating a LoRaWAN technology stack is knowing what technology to use. Patrick's keynote, From Sensor to Safety: using LoRaWAN to Monitor Office Air Quality, demystified the LoRaWAN technology stack. The presentation addressed six key steps in designing an IoT solution: identifying the requirements, hardware, connection type, routing, data collection and actions. By using the specific example of CO2 monitoring in an office environment, Patrick was able to explain his decision-making process that could be applied to other people's needs, ensuring that they are making the most practical choices when deploying IoT devices.
Showcasing new technology
LoRaWAN technology is relatively new and constantly evolving. The Things Conference is the perfect event to learn about recent developments and get your hands on the latest LoRaWAN-enabled devices.
Using LoRaWAN to detect wildfires
As climate change exacerbates extreme weather, wildfires are increasing at an alarming rate. One company working on early prevention is Kozalak, which has created Forest Guard. These devices measure air quality and detect toxic, flammable and explosive gases. If a fire is detected within 100 metres, the LoRaWAN-enabled devices inform the relevant authorities, allowing the wildfire to be extinguished before it becomes unmanageable. 
Dryad is also leading the way for ultra-early fire detection. They estimate that fire risks will double over the next few years, with 80% of fires caused by humans. Wildfires amount to 20% of global CO2 emissions, so by removing human wildfires, it's possible to reduce worldwide CO2 emissions by 16%! Like Forest Guard, Dryad's devices are easily installed in remote locations and offer a minimal environmental impact. The addition of LoRaWAN to these sensors enables wireless data transmission. What is particularly impressive about Dryad's sensors is that they are battery-free. Instead, they are solar-powered, with energy stored in supercapacitors. This allows for them to run maintenance-free for around 10-15 years! In the future, Dryad aims to use its LoRaWAN sensors for general forest monitoring.
Batteryless sensors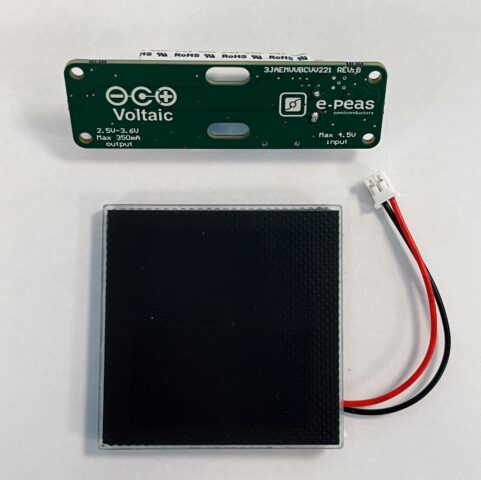 Dryad wasn't the only business showcasing batteryless sensors. These types of sensors are the next big thing. Voltaic, VinaTech & e-Peas offer solutions for continuous power for IoT applications. Voltaic is responsible for the solar panel and circuit board, while e-Peas supply the solar charge controller (chip) and VinaTech make the supercapacitor. Using solar charging and supercapacitors means there is no need for lithium-ion/polymer rechargeable batteries, which typically have a two-year life. To compare, these sensors have a remarkable ten-year life! When we were working on our EaMU project for the Environment Agency, we looked at solar power as an option. The Voltaic solar panels are coated with polyurethane (preventing them from going milky in UV light), which is why they can last 10 years in sunlight. With this in mind, the Voltaic panels were our primary choice for the project.
Satellite connectivity
Currently, terrestrial LoRaWAN covers around 10% of the world's land area. However, Lacuna Space has been working to provide satellite LoRaWAN modems which will allow users to merge terrestrial coverage with satellite coverage. This will provide 100% global coverage, even in the most remote locations. This technology will benefit people living in rural areas and be valuable for monitoring ships and tracking logistics. Satellite LoRaWAN is also more efficient than other data satellites currently available, which is a massive advancement toward global connectivity.
More Tech for Good projects
Smart Water Meters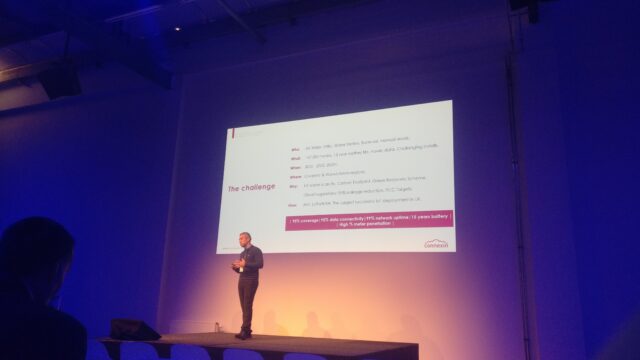 There is activity on networks now more than ever. Two companies driving this increase in usage and transforming utility efficiency using LoRaWAN are Connexin and Itron. Severn Trent Water recently awarded Connexin and Itron contracts to roll out an IoT water network across Coventry and Warwickshire. The installation of over 150,000 smart water meters will: improve services, combat water leakage, provide customers with exact billing and help protect the environment. The sophisticated network will also provide hourly data on water consumption, for example, when and where water is running. Previously, water companies would only receive updates every six months. So far, this data has led to the detection of around 3000 leaks, with approximately 32,000 water meters currently active in Coventry. A regional deployment on this scale sets a precedent for LoRaWAN usage in the UK!
Student Safety App
MyWay is an app that acts as a route finder for students to find the safest route home at night. Co-designed by Thingitude and female students at the University of Reading, the app utilises the LoRaWAN network in Reading. The team at Thingitude designed and installed sensors in the town centre and towards the university area. The sensors relayed information about which streets were poorly lit, how many people were in a specific location and if there were areas to avoid. Students could also report incidents in the app which would be updated on the map. Social problems like student safety can be a challenge to solve, but this innovative approach using LoRaWAN connectivity offers a promising solution. You can watch Thingitude's keynote on MyWay here.
Until next year
As always, The Things Conference was an incredible event showcasing the work of people around the world. It wouldn't be possible without the dedication of the organisers and volunteers that make the event a success year on year, so thank you! 
Keep an eye on The Things Network YouTube channel for keynotes from this year's conference. If you want to stay up to date with our latest work at DefProc, follow us on Twitter and Instagram and connect with our co-founders, Patrick and Jen, on LinkedIn.