Last year, we announced Wonkeyboard, the world's first full-size, 1% mechanical gaming keyboard. Wonkeyboard is an internal project at DefProc, existing as a fun and exciting way to show off our capabilities. We have taken the project from start to finish, with everything built and developed in-house. Throughout the process, our team has had the opportunity to showcase their creativity and innovation.
Services used
3D printing

Electronics design

Hardware (PCB layout)

Firmware to run the device

Mechanical design (case)

Rapid prototyping (PCB and case build)

Software development (game and control software)
The project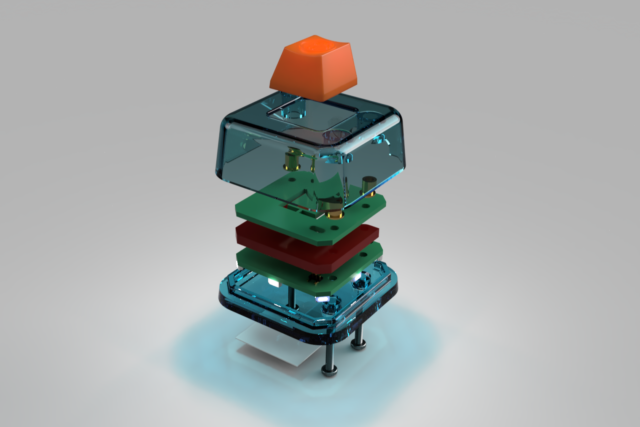 The idea of Wonkeyboard came about in 2019. We were inspired by various macro keyboards circulating Hackaday.io and Reddit, particularly the customisable ones. Typically, macro keyboards take a pattern of clicks or inputs and combine them into one key, coming in handy for repetitive tasks. However, we wanted to go one step further, adding more functionality to Wonkeyboard so that users were free to play around with how they used it.
What can it be used for?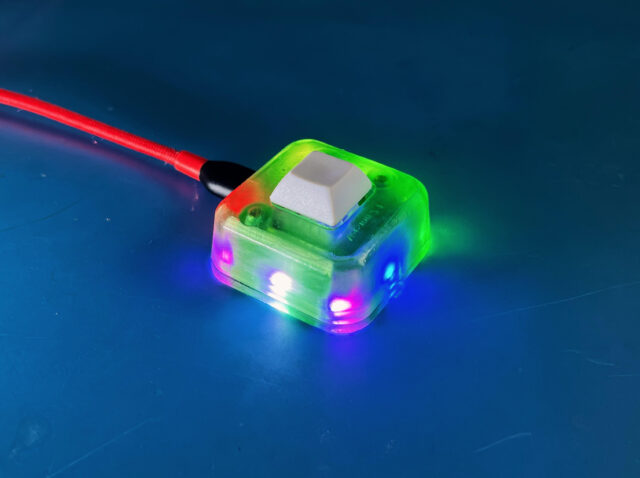 As a macro keyboard, Wonkeyboard can become a keyboard shortcut. It can be as simple as an Escape key for certain Macbook users. Another use might be software specific. For example, it is possible to program Wonkeyboard as a microphone mute button for users who jump across various platforms like Zoom and Teams. If you're prone to forgetting whether you have muted yourself, the device's RGB lights can be programmed to glow red when the mic is live and green when muted.
Wonkeyboard may only have one key, but it functions as a full-sized keyboard through morse code input. As well as being a fun take on traditional key inputs, it can also be used by people with physical disabilities as it only requires a single key. 
Another feature of Wonkeyboard is serial repeat mode for inter-computer copy and paste. The SAMD21 microcontroller inside the device (with flash memory) and the USB-C port means that users can send a text string to Wonkeyboard, plug it into a Raspberry Pi and paste it in place.
For fans of single-button games like Flappy Bird, Wonkeyboard can function as an OEM quality single-button game controller. To demonstrate Wonkeyboard's capabilities, we have developed our own single-button game, Little Lights, in-house.
What have we learned from the Wonkeyboard project?
While Wonkeyboard started as a lighthearted project, it became a way to demonstrate our ability to take a project from start to finish. From conceiving the idea to creating a proof of concept, a prototype and finally, something that can be taken to manufacture, Wonkeyboard showcases our engineering capabilities.
What's next for Wonkeyboard?
Wonkeyboard is an open-source project, so anyone can have a go at building it. There are many customisable elements, including the keycap and switch, allowing users can make the device their own. Open-source also means that it can be shared with the maker community, and we have the opportunity for feedback, updates and improvements. We recently entered Wonkeyboard into the Hackaday Odd Inputs and Peculiar Peripherals competition. We saw this as a fantastic opportunity to see how people react to Wonkeyboard and where we might take it in the future.
Contact us
Do you need help with the development of a unique project? We have a wealth of experience working on projects at the forefront of change, from domestic hydrogen sensors for Northern Gas Networks to river-level sensors for the Environment Agency. Get in touch with us at contact@defproc.co.uk for an introductory discussion with a member of our team.
To keep up to date with our latest projects, follow us on Twitter and Instagram or connect with Pat and Jen on LinkedIn!