LUX was a collaborative project for LightNight Liverpool 2021. Together with Focal Studios, Urban Workbench and Liverpool Everyman & Playhouse Theatres, we created an interactive game projected onto the iconic St. Luke's Bombed Out Church. At the time, this was the UK's biggest interactive projection-mapped game!
The challenge
"Play" was the theme for LightNight 2021. As well as making something visually spectacular, it was important to create something that was highly interactive and entertaining. It was clear that a projection-mapped game would fit the criteria. However, due to the timing of the event, it was necessary to have something that was COVID-safe. That meant no contact points, socially distanced and limited human interaction.
Services
Software

Firmware

CAD

Electronics

Unity game development
The project
The game experience
A different approach was needed for LUX's software. As a projection-mapped game, we had to consider that LUX would be displayed on a building rather than a television. Our solution was to create everything within a silhouette of an area which would change with angles and curves. The building had to become a game element rather than a screen. This made the process more complex, as we had to figure out which aspects would be exaggerated and how we could implement this into the game.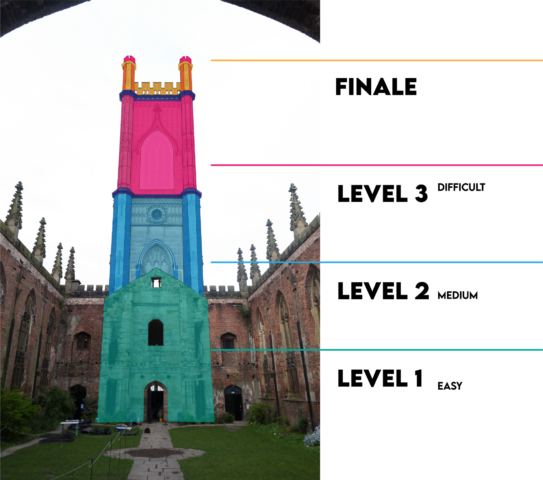 We split the buildings into levels. Players started at level one and were assigned a cyan or magenta orb. The aim was to launch the orbs and hit the coloured targets at the top of each segment. The colours had to match, or they wouldn't attach! This was also the case for the walls and ledges in the game: if your orb was magenta, it could only stick to the magenta surfaces. Yellow was the only colour that accepted both orbs. Once players had both orbs on the target, the next level opened. There was also a time constraint of sixty seconds per level! For players up for an extra challenge, they could hit collectables that would trigger an alternative ending.
Focal Studios provided the art assets and start/finish animations. It was our job to add them to the game and ensure they could be triggered. We also used this opportunity to play around with soft-body physics. The orbs would jiggle if they hit a wall, adding a fun flair to the visual experience. As the game was for LightNight, the game had to be visually striking. Contrasting neon lighting illuminated the historical building in a futuristic way. The effect was mesmerising and playfully incorporated the old and the new.
Creating a non-contact controller
It was critical to consider how visitors could safely interact with our projection-mapped game while ensuring that the user experience would be fun and exciting. We had to establish what each person would need to play the game and how to mitigate people not being able to use contact controllers. Using a non-contact controller made the most sense.
We created a two-player console with a two-way controller. Designed to replicate a golf game, players placed their hand inside the controller, moving it horizontally to adjust the angle of the orb and vertically to set the power. Once the player was happy with the power and angle, they pulled their hand from the controller to launch. We included the pull-back and release motion to reference pinball machines – a familiar, retro game that would evoke nostalgia for some players!
We built the controller with ease of use and accessibility in mind, which meant playing around with different forms of technology. To detect hand movements, we used ultrasound sensors that work well with different light levels. We also added strip lights where players inserted their hands. Creating an exciting and immersive experience was crucial, so the controller had to reflect the futuristic feel of the game while also being robust and cost-effective.
The event
LightNight Liverpool was a fantastic evening. Despite being in the middle of a pandemic, we were able to (safely) bring together the community and shine a light on the artistic talent of our city. For us, it was also an opportunity to discover innovative ways to view and interact with one of Liverpool's landmark buildings. Being part of a collaborative group meant that we got to try lots of new things and approach our work from a different perspective. The experience and knowledge we gained from LUX fed well into our next projection-mapped game, #WeAreGame.